Exposed Edges
A problem that we came across when we were building the Executive Desk in 1200 Series is it can be difficult to make the exposed edge clean and free of tear out when using a rabbet bit. Today's tip relates to which way to hold the material (vertical or flat).
All episodes of the
Router Workshop
are available to watch online. This includes all
183
episodes which is over
75
hours of router & woodworking content.
Click here to learn more...
Back Of The Cabinet
When putting a rabbet groove for the back of the cabinet you will run your stock flat so that the cutting edge is on the inside edge of the cabinet when assembled. Tear out occurs on the top (or exit point)of the rabbet bit.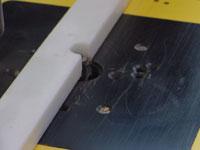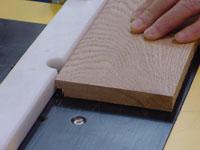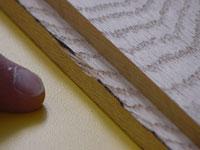 Cherry Border
We wanted to put a rabbet groove to receive the 1/4" plywood in a 3/4" cherry border around the Executive Desk. This means we need the exposed edge to be on the edge and not on the face of the piece. To cut this we stand up the cherry border on edge (vertical), keeping the cutting surface on the exposed edge and putting the top of the cutter (or exit point) behind the 1/4" plywood top. Any tear out will be hidden by the plywood.