Drawer Bottom Slots
On Series 1 Bob and Rick showed how to make a drawer that is sturdy and easy to construct. The corner joints can be with dovetails or hearts made with the E-Z Link system or finger joints using a spacer fence. Check out the following tip on how to keep the bottom slot from showing in your finished drawer!
All episodes of the
Router Workshop
are available to watch online. This includes all
183
episodes which is over
75
hours of router & woodworking content.
Click here to learn more...
Box Joint Drawer Slot
The main parts of a drawer include a bottom, front, back and two sides.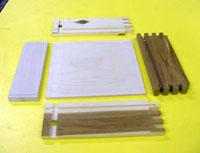 In this example we have used the spacer fence to construct box joints. When cutting the slot for the drawer bottom always clamp a stop block to your table where you want the cut to end.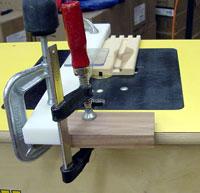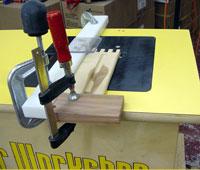 This will keep you from cutting too far and it will also ensure both sides are exactly even.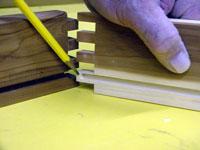 If you go right through to the end the slot will show when your drawer is assembled.
Dovetail Joint Drawer Slot
If your drawer has dovetail joinery on the sides set the fence so the slot for the drawer bottom is cut within the dovetail. You won't have to use a stop block since you will be cutting right through and the slot will be hidden within the dovetail when assembled.