Queen Anne Leg Fixture
In Series 600, Episode 601 Bob created a special jig to hold the "Queen Anne" legs in spite of their shape for base of the Jewelry and Lingerie Cabinet.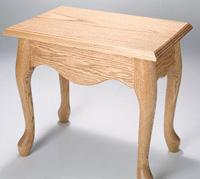 All episodes of the
Router Workshop
are available to watch online. This includes all
183
episodes which is over
75
hours of router & woodworking content.
Click here to learn more...
The Dovetail Fixture
The design of this shop made jig is easy and can be used for cutting slots in any irregular shaped legs.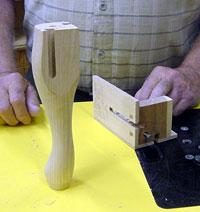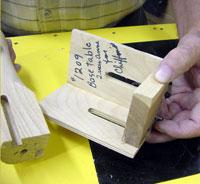 We used two pieces of 1/4" baltic birch plywood our sizes were 2 3/4" w x 5" h and 3" w x 5" h. When there two pieces were glued together the finished size was 3" w x 5" h. The block in the bottom of the jig was 2 3/8" square and glued in place (we screwed it in place until the glue was set and then removed the screws to avoid accidental contact with the router bit).
Place the leg in the holding jig and use a screw through the bottom base piece and up into the leg (as shown) to hold it in place when cutting.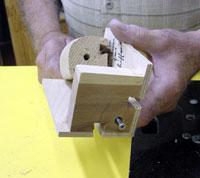 Use a pencil and mark the location of the first slot, lay the jig on the router table and clamp the fence in place. For the size of our leg the dovetail slot was 1 3/8" from the inside corner of the jig.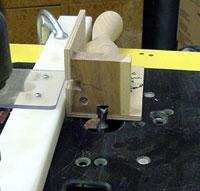 When making this jig you MUST make sure the distance from the inside corner to the bit (the first cut) and the distance from the outside edge to the bit (second cut) is exactly the same. In doing this you will not have to move the fence position to cut any of the slots.
The Stop Block
You want to be sure that all of the slots are exactly the same length so we suggest you use a stop block. Determine the length you want the slot to be. Clamp the stop block on the opposite side of the table against the fence so that the distance between the stop block and the router bit equals the slot length.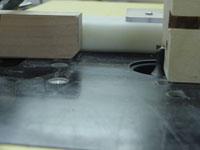 You can also use masking tape on the top of the fence and draw a line to indicate the stop location but this is not as accurate.
Making The Cut
Make the first cut making sure the jig is tight to the fence. The inside corner of the jig will be running against the fence (as shown)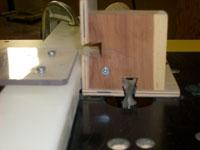 Rotate the jig one quarter turn to make the next cut. This time the off-set of the jig will be running against the fence (as shown).