Easy To Make Dado Jig
This shop made jig will hold long uprights in place while you cut dados for shelves.
All episodes of the
Router Workshop
are available to watch online. This includes all
183
episodes which is over
75
hours of router & woodworking content.
Click here to learn more...
Project Planning
Our storage shelf unit had 12" x 80" x 3/4" uprights and five equal spaced openings. In order to cut the dado's and rabbets at either end we made this jig in a matter of minutes to hold the uprights.
We used 3/4" plywood 20" x 30" for the base and then screwed two strips of 1" pine to the plywood.
In the top strip that holds the two clamps we cut a 1/4" x 1/4" groove in the edge that the uprights will rest against. This prevents the dust from building up between the upright and pine and keeps the upright tight to the pine edge.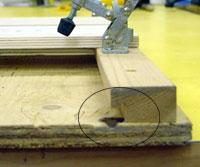 We used 1/2" scrap plywood for the cross support material. When screwed in place this leaves a 1/4" space for dust escape and allows you to slide the upright through the jig without restriction.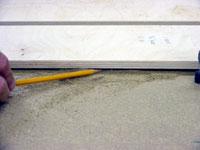 We spaced them 1" apart and used a 3/4" guide and a 1/2" spiral bit to cut the 3/4" wide dados.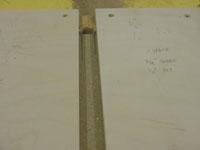 Cutting The Dado
Mark the dado location on the upright.
Set the depth of cut to 3/8" using the brass set up bar.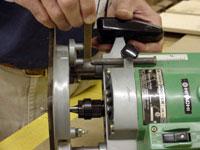 Slide the upright into position in the jig and lock it down with the two clamps. Start the router and plunge down into the pine and upright at the top. Keep the router to the right hand side, pull down to the bottom, move to the left and return to the top.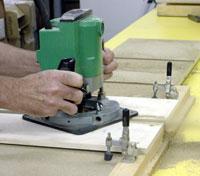 Release the clamps and slide the upright to the next dado location.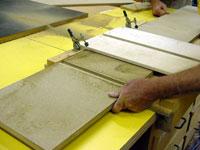 Optional Uses
You can use this same jig to mount strips on a slight angle to cut grooves for a sloping book shelf, shoe rack or louvers. Use the 1" guide as a spacer.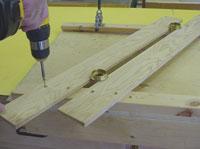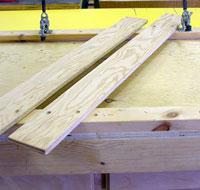 You can also put stock blocks at both ends to make stopped dado cuts.