The Vanity Stool
This vanity stool as featured in Series 5 of "the Router Workshop" started out as Christmas gifts for relatives. I think we mass-produced twenty five, after the gifts we had five left. I took them to a local furniture store the day before Christmas, they sold out in an hour. These stools have been popular for many years!
All episodes of the
Router Workshop
are available to watch online. This includes all
183
episodes which is over
75
hours of router & woodworking content.
Click here to learn more...
First Things First!
Because of the design of the legs, the heart links and the dovetail slots must be completed first. The legs are then glued and cut to shape.
E-Z Link Hearts
We used the E-Z Link Heart design pattern on the legs of the vanity stool. Cut the heart pockets on the leg pieces and the heart plugs on the side pieces as illustrated below.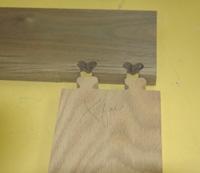 Cutting The Dovetail Slots & Pins
Using a table mounted router, table fence and 14 degree dovetail bit we cut a dovetail slot in the center of the legs. Mark the center on your stock as shown below. You will need to mark the stop location on your fence to be sure that all dovetail slots are the same length.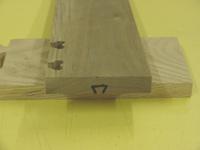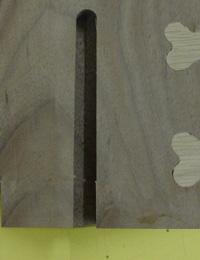 Cut matching dovetail pins on the end pieces of the stool. Be sure the pin length is an exact match to the slot depth, this must be a snug fit. When assembled these dovetail slots and pins tie the two leg frames together to form the stool.
Cutting The Pattern
Once all the hearts and dovetail slots are cut, glue the leg frame together and cut to shape as shown on Series 5 DVD of The Router Workshop!