Series 500
Router Projects for every room in the house! The Step Stool is excellent to give that extra reaching room for the shop, kitchen or bathroom. Angle legs prevent the stool from tipping. Accent your living room with this Sofa Table and Tear Drop Table! Bob and Rick show how to make decorative identical furniture. The office Desk Set and the Roll Up Box are conversation pieces. For the bedroom a Vanity Stool with heart shaped joinery, a Jewelry Box or a Blanket Chest make beautiful accent furnishings. The Folding Table uses a wood groove in the rail to facilite the folding action. This is from the 1940 era before television, but it makes a great TV table now. Bob and Rick also share some great tips on how to build stairs.
501- Shop Step Stool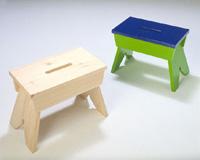 This shop stool works equally well in the kitchen, bathroom, playroom or laundry area. The angled legs prevent tipping, the hand hole and lightweight allow easy mobility, and the height is ideal for accessing that area that was just out of reach. You may also use it in the shop to set a project off the floor for gluing or assembly.
502 - Roll-Up Box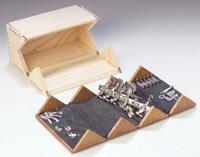 An 1880 vintage storage box for sewing machine parts is the original for this interesting roll-up box. An added feature is making walnut splined box joints with your router to catch your eye.
503 - Vanity Stool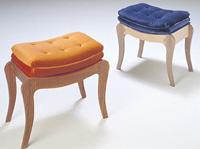 Use zebra wood, pine or contrasting woods and heart-shaped joinery for that special vanity stool your spouse will love. Top it with a padded cushion for a sure winner!
504 - 505 Two Part - The Chest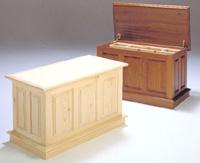 Panels work for more than doors and walls. Use your router to cut panels for this pine chest, which is not only sturdy but beautiful. Collect router tips about lid and base construction as you watch Bob and Rick make a collector's chest. 504. Chest, Part 1 Panel Sides 505. Chest, Part 2 Lid and Base
506 - Box Decoration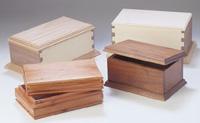 Hardware installation requires some creative thinking and easy routing. Decorate tops, sides and bases to make truly unusual box projects.
507 - Sofa Table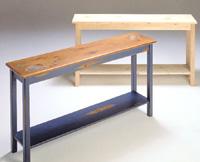 This antique, hand painted sofa table holds a lamp behind that sofa positioned in the center of the living room. It is the right height to come to the top of the sofa back and can be finished to coordinate with the room decor.
508 - Desk Set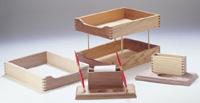 Use box joints in walnut and ash to rout a desk set to hold papers, pens, pads and paper clips. Organize your desk at home or the office with this interesting routed wood accessory.
509 - 510 Two Part - A Folding Table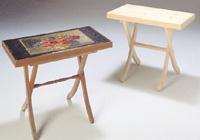 In modern times this table is called a TV table, but ironically, in 1940 when the original table was built, TV was not available. We show the scissor leg system that will fold for storage and open for use. Grandma's folding table features a unique characteristic: the wooden channel and dowel slide that gives it the fold up or down capability. Add a routed top and you have one exciting project. 509. Folding Table, Part 1 Legs 510. Folding Table, Part 2 Top
511 - Tear Drop Table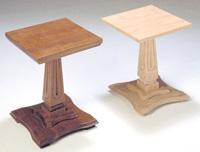 "Tear drop" describes the leg design in this occasional table. Shop made fixtures ensure easy routing to produce this decorative piece of furniture.
512 - 513 Two Part - Basic Stairs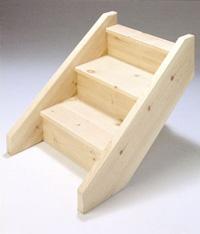 This construction episode is very important to all of us as we all use stairs to get from one level to another. In Part 1 we learn the theory of stairs and get started by routing treads and risers. Take the mystery out of stair construction. Learn the theory and construct stringers using your router and a shop made fixture. 512. Basic Stairs, Part 1 Treads 513. Basic Stairs, Part 2 Stringers