Series 1100
This series includes a wide range of projects including some constructed of WOODSTALK strawboard!
Episode 1101 Puzzle Planter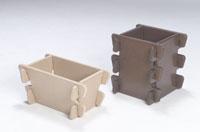 This exciting plant container incorporates jigsaw puzzle pieces with fiberboard made of wheat straw. The container is designed to store in a flat position by disengaging the puzzle lock that holds the planter together. Any liner can be used in the puzzle planter to display plants in the garden, patio or inside the house. Store the outside puzzle planter or leave the inside one together all year round. These containers can be produced in any size, colour, or shape. Make small ones for inside displays. Watch Bob and Rick make a pattern and produce a unique puzzle planter on the Router Workshop episode #1101.
Episode 1102 Swivel Stool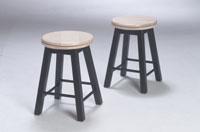 This pine and maple stool is designed with a swivel seat. Sturdy pine legs can be painted in a colour that will contrast with the clear maple seat. Watch Rick and Bob fashion a swivel stool on the Router Workshop episode #1102.
Episode 1103 /1104 Kitchen Console, 2 Parts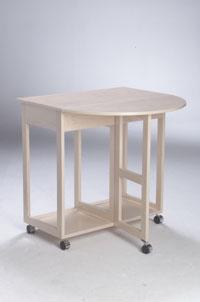 The kitchen console is an eating centre on casters. Very small kitchens often are not designed with an eating area because of space. With this moveable console that opens to a 3' square table surface and includes two drawers for eating utensils, two can eat in the kitchen, by the picture window, in front of the TV or in the sun porch. Bob and Rick went one step further and designed the console to store two swivel stools (as in episode 1102) inside the console. Watch the Router Workshop, episodes 1103 and 1104 for details of the kitchen console. 1103. Kitchen Console Part 1, Legs1104. Kitchen Console Part 2, Top
Episode 1105 Hall Tree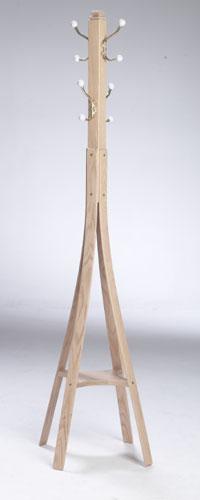 Bob and Rick show the intricacies of the bent leg hall tree in the Router Workshop episode #1105. This oak hall tree uses simple lines and a routed knob to set off brass and ceramic coat hangers. Or follow instructions to make oak hangers to match the hall tree. A bottom shelf spreads the bent legs for strength and stability. Use it in any entrance to hang coats and hats with a minimum of wasted space.
Episode 1106/1107 Chair-side Table, 2 Parts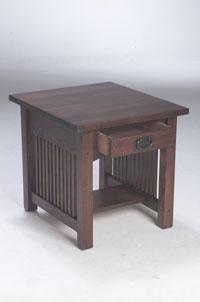 A fine oak furniture piece with a modern touch, the chair-side table can be used in the bedroom, the living room or the family recreation room. Router joinery by Bob and Rick Rosendahl make this table sturdy and esthetic by incorporating mortise and tenon joinery with the router. Watch episodes #1106 and #1107 for design and construction details. 1106. Chair-side Table Part 1 1107. Chair-side Table, Part 2
Episode 1108 Tool Storage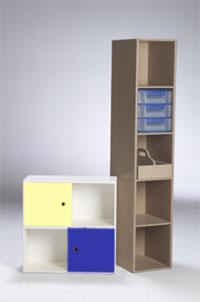 There is no place that requires storage more than the shop. Numerous tools, hardware, and materials all require easy access and safe storage. Tool storage ideally should be designed to fit the tools etc. to be stored. Bob and Rick work up a tool storage design and show you how to build it out of fiberboard made of wheat straw. It can be painted or finished with a clear finish. Watch episode #1108 of the Router Workshop.
Episode 1109 Swan Neck Stand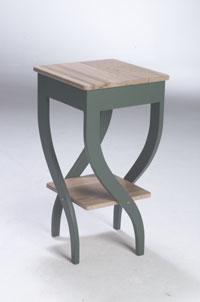 One beautifully designed swan neck leg is used four times in this unique stand. The trick is in the placement of the legs and the joinery to uphold the top. Plants, lamps or pictures can be displayed in that small, unfurnishable corner of any room in the house. Bob and Rick show you how to make the leg pattern and fashion this swan neck stand with your router on episode 1109 of the Router Workshop.
Episode 1110 Shoe Rack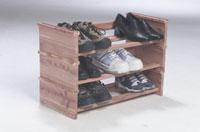 The entrance area of our homes is usually untidy with scattered shoes. A solution to this problem is a shoe rack or maybe three or four (depending on how many shoes). On the Router Workshop episode #1110, Bob and Rick design and build a stacking shoe rack to fit every need. Make one or two or more and stack them to take advantage of the space available. Aromatic cedar provides an extra plus in dispensing a pleasing smell in the closet or entrance where the racks are used.
Episode 1111/1112. Game Table, 2 Parts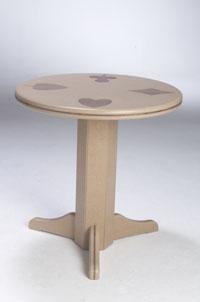 Walnut inlays of heart, diamond, spade and club patterns decorate the game tabletop. Walnut edge trim in the tabletop and three legs contrast with fiberboard made of wheat straw to give a sturdy and pleasing appearance. The six-sided centre column is beveled and positioned to hold the top and the legs. Watch episodes #1111 and 1112 of the Router Workshop for details. 1111. Game Table Part 1, Top 1112. Game Table Part 2, Legs
Episode 1113 Saw Horse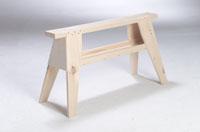 Every shop and home needs at least two of these sturdy, stacking saw horses. The sloped legs give stability, the enclosed gables give strength, and a handy shelf-spanner separates the legs and stores small items and tools where they are easily accessible. Bob and Rick tell you not to paint or finish your pine horses because the paint will just come off on the project you are working on. Watch Bob and Rick on the Router Workshop and make your own shop horses.